FIVE PUPPIES AVAILABLE !!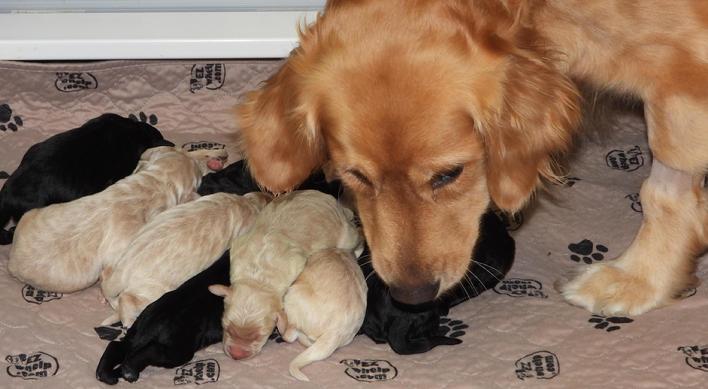 Jewell with her litter of eleven F1 Standard Goldendoodle puppies.
| | |
| --- | --- |
| The four female puppies from Jewell's litter. | The seven male puppies from Jewell's litter. |
Jewell, in her last litter before retiring, has delivered ELEVEN F1 Standard Goldendoodle puppies. The initial four were delivered naturally and the remaining seven were delivered by C-section. Both Jewell and her puppies are all doing extremely well. The first individual puppy pictures will be published the weekend of June 11-12 and Puppy Pick Day will be Saturday, July 9th. Because the puppies were born on a Wednesday, the Puppy Pickup Day for this litter will range from Wednesday, July 13th until Saturday, July 16th.
We have five available picks for this litter! If you are interested in joining the list, please call us as soon as possible. First come, first served!
We are still waiting for Stella to come into heat for her litter of F1 Mini Goldendoodles. That litter's Go-Home date is now in September. We will keep you advised as soon as Stella comes into heat, is bred and then eventually ultrasounded to confirm pregnancy.
Following Stella we will conclude the year with another MultiGen Mini Litter from Libby and Teddy (expected to be ready to go home in November), and close out the year with an expected litter of MultiGen Medium Goldendoodles from "Stella Two" and a yet-to-be-named stud. That litter is expected to be ready to go home around the Holidays. Stella Two's litter has plenty of availability so call Janet now at 860-942-7889if interested.
Planned Powderhill Litters for Later 2022.
F1 Mini Goldendoodle Litter (Stella & Marshmellow) (Expected Go-Home in September)
FALL, 2022
MultiGen Mini Goldendoodle Litter (Liberty & Teddy) (Expected Go-Home in November)
MultiGen Medium Goldendoodle Litter (Stella2 & TBD) (Expected Go-Home in December)
More Powderhill Choices For Your Puppy ...
Powderhill Goldens 424 Kick Hill Rd Lebanon, Connecticut 06249